C. ISSUE RAISED - WALTHAM HIGH SCHOOL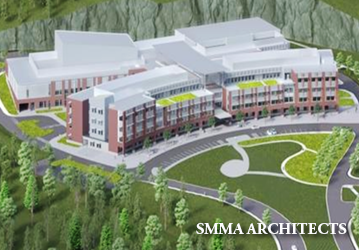 Mayoral Candidate LeBlanc says she "WILL" build a new high school. Based upon her actions to date - WHERE? The selected site - the Stigmatine site at 554 Lexington Street? WHEN? and HOW?

STIGMATINES' STEPS
May 2014
– Stigmatine Provincial Superior Rev. G. Hoppough worked with Atlantic Management (private real estate firm) on fewer and aging priests, deteriorating buildings, revenue and costs.
STIGMATINE'S BALLOT TO AUTHORIZE ATLANTIC TO SELL THE WALTHAM CAMPUS PURSUANT TO OPTION CHECKED
(Options: sell part, sell all, or require a buyer to respond to both all and part at the same time)
THE STIGMATINES PRIESTS VOTED and Atlantic Management was then told to proceed with the sale. So Atlantic prepared an agreement.

STIGMATINES - THE PROPERTY NOT FOR SALE?
November 25, 2015
- Father White, President of the Trustees of the Stigmatine Fathers, Inc. signed an EXCLUSIVE SALES AGENCY CONTRACT with Atlantic Management for purpose of 1.
selling The Property
OR 2.
subdividing and retaining
a portion and selling the rest. Fr. White represented he was authorized to sign.
STIGMATINES - THE CITY IS THE FIRST ONE WE WILL CONTACT?
Atlantic prepared an Investment Summary. For a potential
Buyer
to receive this, ONE MUST SIGN A CONFIDENTIALITY AGREEMENT AGREEING NOT TO TALK to the CITY OF WALTHAM
until a purchase and sales agreement is signed with the Seller (Stigmatines)
. The Summary indicated a potential apartment development site for 450-500 units on the whole site or a lesser amount on 33.3 acres (300-350 apartments). A BIDDER HAD TO BID ON BOTH OPTIONS AT SAME TIME!!
MAYOR McCARTHY'S STEPS
Mayor became involved on
January 4, 2016
, WHEN SHE WAS TOLD THAT THE PROPERTY WAS BEING SOLD and she delivered a letter to the Stigmatines. Mayor's intention was for city open space or possibly for a high school relocation site. (1/26/2016)
STIGMATINES' INTENT
As you can see from our response "we continue to
duel track this matter"
; namely "we are
first cooperating
marginally to consider a "friendly taking" by the city" … the
"second track being that we continue to pursue an outright sale to a Developer/buyer."
(1/26/2016) (Atlantic to Father White)
COUNCILLOR DIANE LEBLANC – "I HAVE NO CONFLICT"
Councillor Diane LeBlanc used her official position to advocate for these private parties with whom the City was attempting to negotiate and spoke for the City Council apart from a legally convened meeting. Both are not permitted under Massachusetts law. (No elected official can act as agent for anyone other than the City in a matter in which the City has an interest, Mass General Laws c. 268A, Sec. 17. No city councillor can speak for another city councillor or a group of councillors apart from a vote at a legally convened Council meeting. Under the Public Meeting Law, an elected official cannot poll or seek to find the opinion of councillors apart from a legally convened meeting).
Council President Diane LeBlanc's "leadership" of unilateral action, obstruction, delay and advocacy for private individuals cost the Waltham taxpayers MILLIONS OF DOLLARS! (each year of delay increases high school costs by 5.5%)